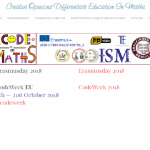 Private Project
Active 4 years, 10 months ago
Project Title: Creative Opinions Differentiate Education In Maths
Project Acronym: C.O.D.E in Maths
Main objective of the project: Exchange of Good Practices
Project Start Date: 01-09-2018
Project End Date: 31-08-2020
Project Total Duration: 24 months
Applicant Organisation: Denizli Erbakir Fen Lisesi, Turkey
Partner Organisations:
COLEGIUL TEHNIC GHEORGHE CARTIANU, Romania
Technikum Informatyki Edukacji Innowacyjnej, Poland
Istituto Tecnico Settore tecnologico – Liceo Scientifico "E. Mattei", Italy
CENTRO INTEGRADO DE FORMACIÓN PROFESIONAL MEDINA DEL CAMPO, Spain
This website has been produced with the financial support of the European Commission. The content of this document is the sole responsibility of the authors. The National Agency and the European Commission are in no way responsible for how the content of the information will be used.
This is a private project. To join you must be a registered site member and request project membership.