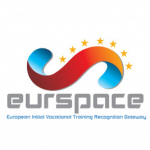 Public Project
Active 3 years, 12 months ago
The EURspace: European IVT Recognition Gateway, reference no. 2015-1-PT01-KA202-013119, is a European Project financed by the Erasmus+ Programme, KA2, which has the general aim to facilitate the mobility of IVET students across Europe and contribute towards the development of vocational education and training without borders, as well as transparency in the recognition and certification of the learning outcomes acquired abroad.
The EURspace products will provide support to ensure the recognition, validation, attribution of credits and certification of Initial Vocational Training Units, applied within other European countries, allowing the combination of theoretical and practical approaches, therefore extending the national scale to the European scale.
EURspace
Oh, bother! No topics were found here.
You must be logged in to create new topics.